Bonnie's Tai Chi
I am certified Tai Chi and Qi Gong instructor and Reiki Master. I have had the pleasure of practicing for over 17 years here in Tampa Bay Area.
About Bonnie's Tai Chi Classes
Tai Chi Benefits: Bonnie's Tai Chi Class brings all your physiological systems from digestion, cardiovascular, respiration, immunity and mental activity up to a higher level in a gentle and low impact manner. No movement is too difficult or strenuous as Bonnie modifies each movement to fit every student's needs. Many of her students can work at different levels within the same class whether you are doing chair work due to an injury or studying in preparation to teach. Greater flexibility, core stability, improved balance, less fatigue, and reduced stress aid in the ability for her students to prevent and deal with issues such as Fibromyalgia, Parkinson's, Arthritis, Joint Replacement, Lowering Blood Pressure, Depression, Anxiety and Breathing. Bonnie has often said that this ancient exercise surprisingly often meets the individuals needs what ever they may be.
Student needs: Bonnie brings all of her training and modalities to each class – Reiki, breath work, stretch and balance visualization.
Call or Email Bonnie regarding class time and locations.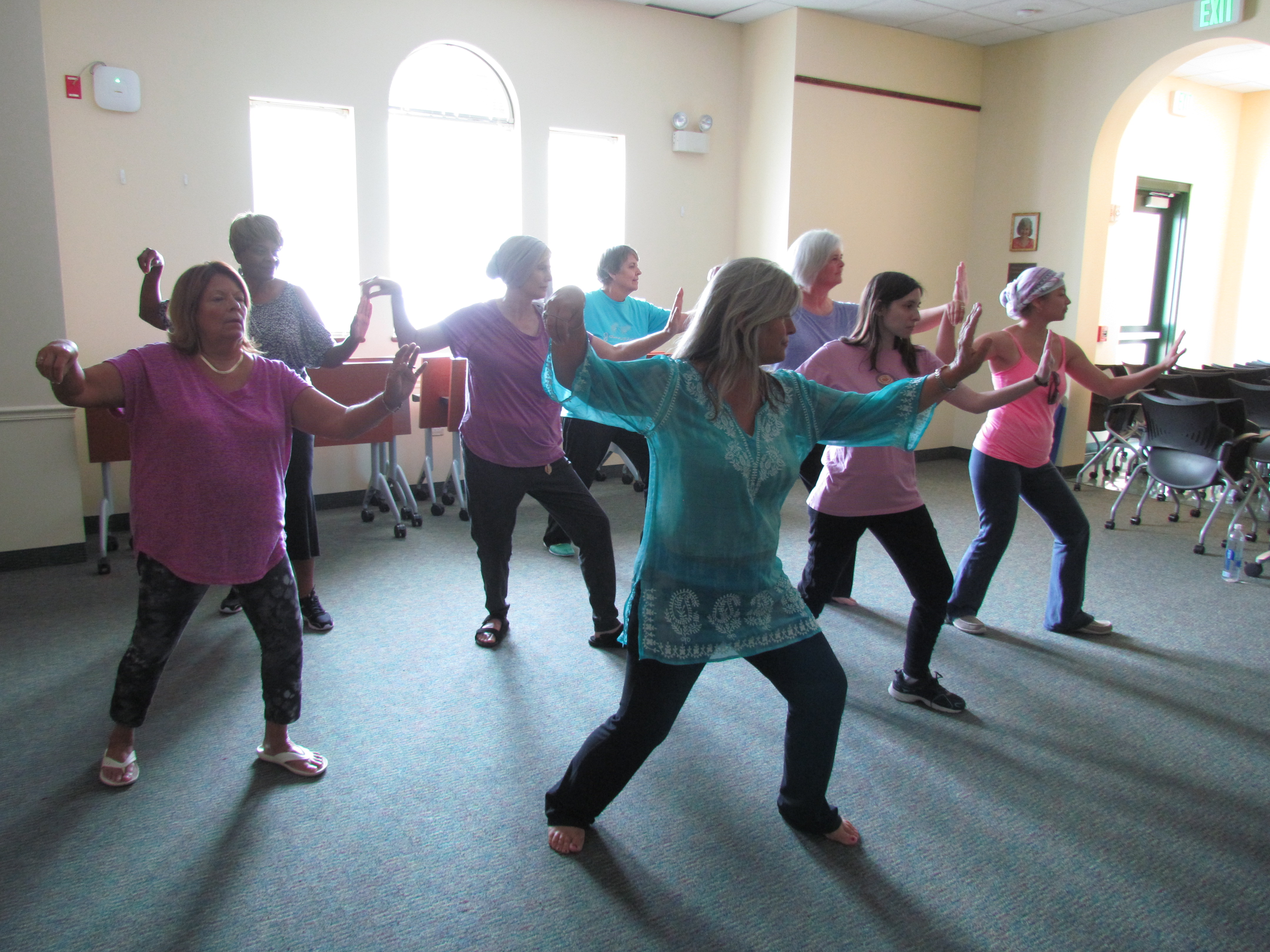 Group photos by Scott Shellabarger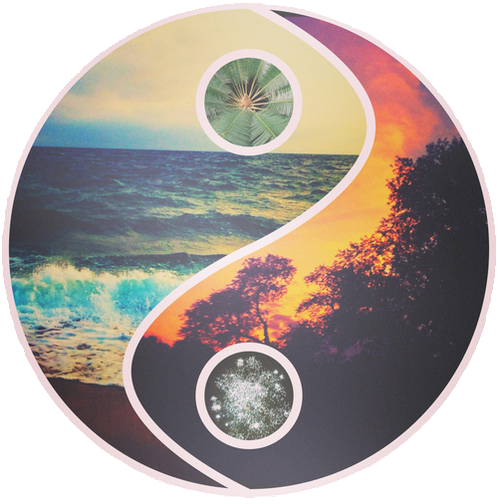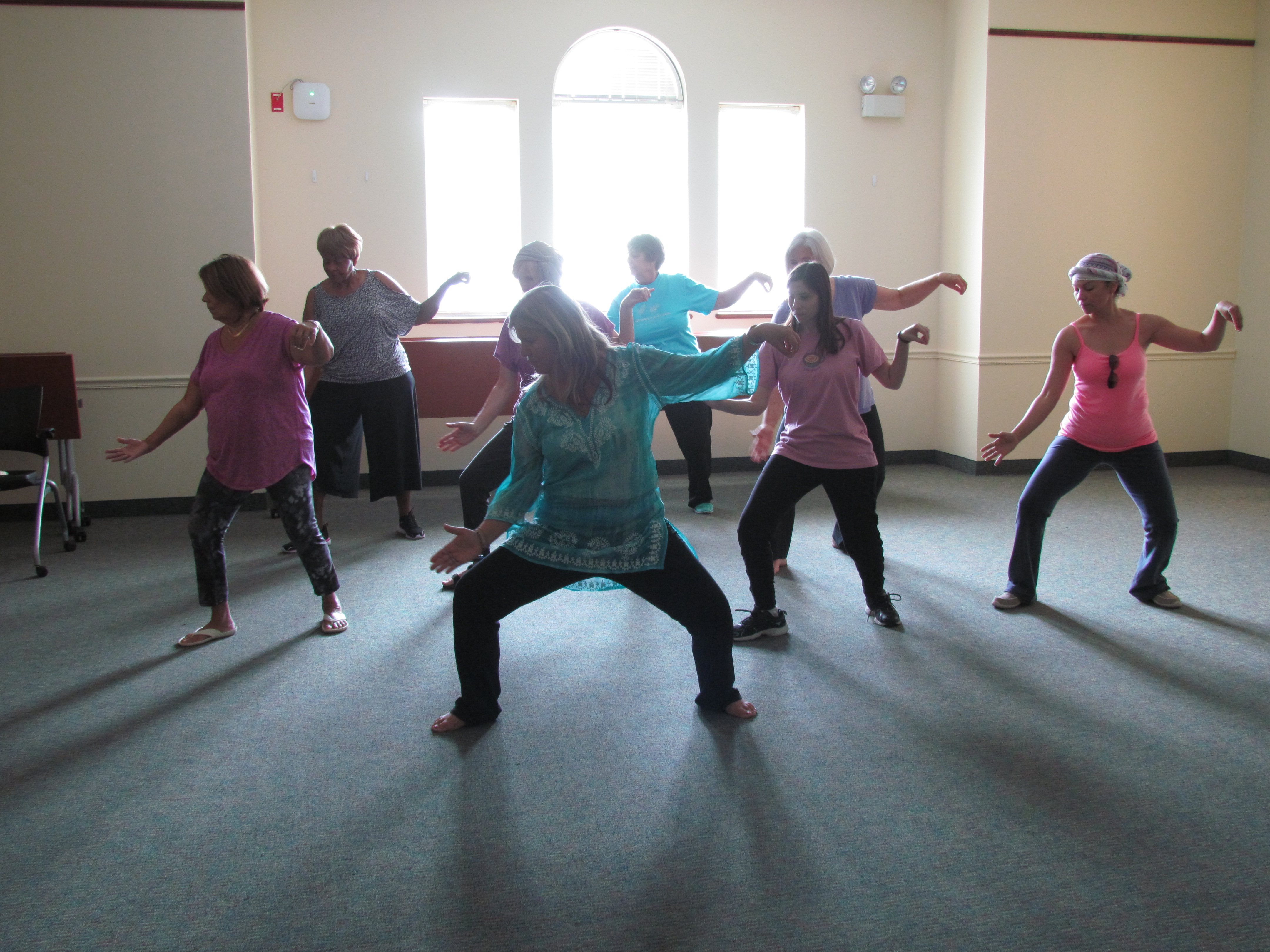 TAI CHI Classes Open to the Public
(In Home, Private and Group Sessions are also available)
Bonnie T Birdsall, Tai Chi Instructor and Reiki Master
Please call me with questions or to schedule a class at (813) 215-7642 or email: swimtaichibon@juno.com
Jimmy B. Keel Library
2092 W Bearss Ave. Tampa, FL 33618
1:00pm – 2:00pm
January – March
Austin Davis Library-FREE to All/Sponsored
(Varied Mondays) 6:15pm – 7:15pm
Location: 17808 Wayne Rd., Odessa, FL 33556
Land O' Lakes Branch Library
(varied Mondays) 6:00pm
Location: 2818 Collier Pkwy, Land O' Lakes, FL 34639
Tuesdays
John Germany Library
900 N Ashley Dr, Tampa, FL 33602
7:00pm – 8:00pm
First Tuesday of the every month in 2018
New Tampa Regional Library
10001 Cross Creek Blvd. Tampa, FL  33647
1:00pm – 2:00pm
January – March
No Open Classes at this time.
Thursdays
Upper Tampa Bay Library-FREE to All/Sponsored
1st & 2nd Thursday of each month 1:30pm–2:30pm
Location: 11211 Countryway Blvd. 33626
Sun Yoga
19022 Geraci Rd, Lutz, FL 33548
7:30pm-8:30pm
(813) 955-1262
Call for a spot
Jan Kaminis Platt Library-FREE to All/Sponsored 1pm – 2pm
Location: 3910 S. Manhattan Ave., 33611
Charles J. Fendig Library-FREE to All/Sponsored 2:30pm – 3:30pm
Location: 3909 W Neptune St, Tampa, FL 33629